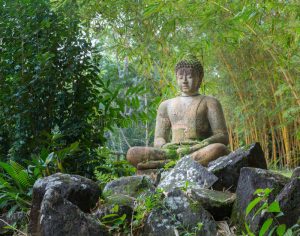 Most clients begin to feel a bit strange in advance of their session.  It is said that once you've decided to use Kambo, it comes into your space psychically.
2 to 3 days before: Although not necessary, I recommend eating as wholesome as possible, try to reduce or eliminate fried, heavy, over-processed foods, alcohol, and other recreational drugs. Drink plenty of water so that your tissues are hydrated. Adding electrolytes (non-sugar) and liquid minerals to your water will help prepare your body.
No colonics, enemas, liver flushes, or water fasting within 3 days (before and after) taking Kambo. With the exception of the 10-12 hours prior to your session where you will fast, sparingly drinking water only.
Do not eat anything for 10-12 hours before ceremony.
Day of Ceremony: The day of the ceremony you will fast from food. You should not have eaten for 10-12 hours prior. You can drink water during the 12-hour fast but not excessively. Set your intentions.
During: Breathe and invite the spirit of the medicine into you. As you inhale soften to the Kambo and as you exhale simply surrender to the experience.
What to Bring:
A blanket and pillow (Optional items: Backpack and/or yoga mat).
Loose, comfortable and layered clothing for hot and cold temperature fluctuations.
A change of clothing in case yours gets soiled during treatment.
A hair band or clip if your hair is long.
A contact lens case with solution added (if you choose to receive Sananga eye drops and wear contact lenses).
The Kambo Points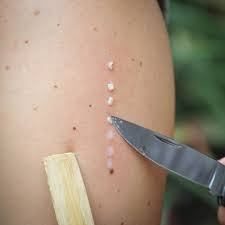 The burns are small and act as portals for the secretion to enter your body where it circulates via your lymphatic system.  There are traditional places on the body where the small burn points are placed.  Typically, the inner skin on the leg above the ankle is used for women.  Men generally have their points placed on their upper arm.  There are no right and wrong places for these points and it is good to think ahead about where you'd like them.  The points may also be placed on the auricular acupuncture points of the ear, the chakras along the spine or on meridian points to target specific issues.  I will develop a protocol after discussing what you wish to address with the session.
After Care of Burn Points
When the points begin to heal, try not to remove the scabs or scratch, as this might lead to longer-term or permanent scarring.  If they itch, you can apply Dragon's Blood (Sangre de Drago) which I apply to my points every couple of days until they are fully healed.  Sangre de Drago is available at many health food stores and online here. Try to keep the area dry, except for bathing/showering.  Keep abrasive clothing fabrics away from the area for about one week.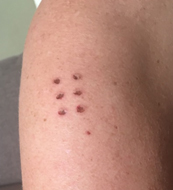 The small burn marks will usually heal and fade with time, though it is important to understand that some types of skin will continue to show small, perceptible scars months later.  Many people see their Kambo scars as a badge of honor for going through the "ordeal of the session".
Disclaimer
PLEASE NOTE THAT KAMBO IS A SHAMANIC CEREMONIAL RITUAL FROM THE AMAZON RAINFOREST – IT IS NOT A MEDICINE OR ANY FORM OF MEDICAL TREATMENT. THE SERVICES OFFERED ON THIS WEBSITE DO NOT CONSTITUTE ANY FORM OF MEDICAL PRACTICE.
IAKP PRACTITIONERS DO NOT DIAGNOSE, TREAT CURE OR MITIGATE ANY DISEASE, OFFER HEALTH ADVICE, TREAT PHYSICAL OR MENTAL HEALTH ISSUES OR PRESCRIBE MEDICINES, NOR ARE THEY DOCTORS OR ANY OTHER FORM OF MEDICAL PRACTITIONER.
PARTICIPANTS ARE ADVISED TO SEEK MEDICAL ADVICE FROM THEIR PERSONAL PHYSICIAN PRIOR TO ENGAGING IN A KAMBO CEREMONY. FURTHER PARTICIPANTS MUST DO THEIR OWN RESEARCH AS TO THE POTENTIAL BENEFITS OF TAKING KAMBO, AS NONE ARE OFFERED OR IMPLIED HERE.