When we work with Kambo we feel "Mitakuye Oyasin" that all of creation is related and that as we are part of creation, creation is an integral part of us, having no separation. In this sense Kambo is an alchemical master who systematically removes our energetic and spiritual blockages by washing away any dense physical and mental energies which deny us a balanced and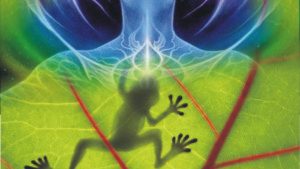 peaceful life. Another way to look at it is that Kambo not only cleans our physical bodies, but it also cleanses our emotional and spiritual bodies at the same time.
Kambo also gives us the opportunity to understand our blocked or repressed feelings by bringing up issues that we have suppressed and possibly forgotten. By removing these denser energies, the remnants of unprocessed, unhealthy feelings from the past, we can begin to peel back the layers revealing our authentic self. The clearer we become, the more resonant we are with all of creation and in this state of being we can truly manifest happiness, joy and abundance in our lives and in the lives of those around us.
When we have allowed emotional, environmental or spiritual "toxins" to thwart our outlook on life, or when we feel swamped, it is surely time for Kambo. Many have described their Kambo experiences as a genuine rebirth, similar to stepping through a doorway that they can never pass through again. Kambo helped people to reignite their inner courage and to acknowledge themselves on a deeper level, letting go of that which was holding them back and allowing them to embrace their highest happiness.
There are many paths of course to uncover these deeps states of understanding, techniques such as meditation, Tai Chi, Yoga are some others, I have come to realize that when you combine these modalities with Kambo and other plant medicines  our growth is potentiated. Thus the focus of my Kambo offerings is shifting to reflect that.
Whether Kambo has you purging, sweating, shaking, crying or in a state of bliss, you can be sure that change is in the air. I have witnessed a vast array of reactions during Kambo, the most honest being "why the hell am I doing this", which after a period of time changed to "that was great, when can I do it again?" Kambo has never failed to deliver a deeply transformative experience.
Disclaimer
PLEASE NOTE THAT KAMBO IS A SHAMANIC CEREMONIAL RITUAL FROM THE AMAZON RAINFOREST – IT IS NOT A MEDICINE OR ANY FORM OF MEDICAL TREATMENT. THE SERVICES OFFERED ON THIS WEBSITE DO NOT CONSTITUTE ANY FORM OF MEDICAL PRACTICE.
IAKP PRACTITIONERS DO NOT DIAGNOSE, TREAT CURE OR MITIGATE ANY DISEASE, OFFER HEALTH ADVICE, TREAT PHYSICAL OR MENTAL HEALTH ISSUES OR PRESCRIBE MEDICINES, NOR ARE THEY DOCTORS OR ANY OTHER FORM OF MEDICAL PRACTITIONER.
PARTICIPANTS ARE ADVISED TO SEEK MEDICAL ADVICE FROM THEIR PERSONAL PHYSICIAN PRIOR TO ENGAGING IN A KAMBO CEREMONY. FURTHER PARTICIPANTS MUST DO THEIR OWN RESEARCH AS TO THE POTENTIAL BENEFITS OF TAKING KAMBO, AS NONE ARE OFFERED OR IMPLIED HERE.