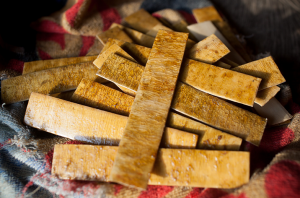 Kambo has no known detrimental side effects, so when it is responsibly administered, it's completely safe.  There are some people who should not take it; generally, Kambo is not for you if you have, or have had in the past, any of the following conditions (Please understand that this is not an exhaustive list):
Stroke
Heart bypass surgery
Serious heart problems such as congestive heart disease or an enlarged heart
Taking immunosuppressants for an organ transplant
Aneurysm
Addison's Disease
Brain hemorrhage
Blood clots
Current and severe epilepsy
Serious mental health conditions, excluding depression, PTSD and anxiety
Lack the mental capacity to decide to take Kambo
Seriously low blood pressure that requires medication
Anyone recovering from a major surgical procedure
Pregnant (the first two trimesters) or may be pregnant
Women who are breastfeeding babies under 6 months of age
Under 18 years of age
Chemotherapy or radiation sessions within the past 6 weeks
Ehlers-Danlos Syndrome
Implanted cardioverter defibrillators.
Pericardial effusion.
Excess fluid in the heart sack.
Heart valve replacement surgery.
Considerations
If you are asthmatic, be sure to bring your inhaler with you.
Diabetics need to bring insulin, testing strips, and food.
Cautions
People taking immunosuppressants for autoimmune disorders.
People taking slimming, serotonin or sleeping supplements.
Active drug or alcohol addiction.
Do not fast (including water fasts) for 7 days before or after taking Kambo.
Colonics, enemas, liver flushes, or any water-based detox should be avoided within 3 days before and after taking Kambo.
NOTE: This should not be confused with the water only fasting that you will do in the 10 – 12 hours prior to your session (you can have water, but not excessively, during this time). At the beginning of the session, I will instruct you to drink 1.5-2-liters of water which will be about 10-20 minutes before I place the Kambo.
Disclaimer
PLEASE NOTE THAT KAMBO IS A SHAMANIC CEREMONIAL RITUAL FROM THE AMAZON RAINFOREST – IT IS NOT A MEDICINE OR ANY FORM OF MEDICAL TREATMENT. THE SERVICES OFFERED ON THIS WEBSITE DO NOT CONSTITUTE ANY FORM OF MEDICAL PRACTICE.
IAKP PRACTITIONERS DO NOT DIAGNOSE, TREAT CURE OR MITIGATE ANY DISEASE, OFFER HEALTH ADVICE, TREAT PHYSICAL OR MENTAL HEALTH ISSUES OR PRESCRIBE MEDICINES, NOR ARE THEY DOCTORS OR ANY OTHER FORM OF MEDICAL PRACTITIONER.
PARTICIPANTS ARE ADVISED TO SEEK MEDICAL ADVICE FROM THEIR PERSONAL PHYSICIAN PRIOR TO ENGAGING IN A KAMBO CEREMONY. FURTHER PARTICIPANTS MUST DO THEIR OWN RESEARCH AS TO THE POTENTIAL BENEFITS OF TAKING KAMBO, AS NONE ARE OFFERED OR IMPLIED HERE.