In Kambo purification rituals a practitioner typically burns the outer layer of skin on the shoulder or lower leg of the participant with a glowing point of a burning stick, which open the capillaries at the burn locations or gates. Subsequently, the Kambo secretion of the Phyllomedusa bicolor (giant leaf frog or Kambo) is applied to the gates.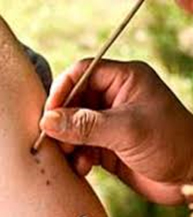 The aim of this ritual is the purification of the body. Almost all of the effects of the secretion can be ascribed to its exceptionally high content of active peptides that are easily absorbed through wounded skin including tachycardia, dizziness, nausea, vomiting and sedation are brought on by the high content of peptides. These peptides include Phyllocaerulein (hypotensive neuropeptide), Phyllomedusin (a tachykinin which excite neurons, evokes behavioral responses, contracts smooth muscles and is a potent vasodilator and secretagogue), Phyllokinin (induces relaxation of arterial smooth muscle by targeting bradykinin receptors), Dermorphins (opiate-like activity) and Deltorphins (opiate-like activity).
Disclaimer
PLEASE NOTE THAT KAMBO IS A SHAMANIC CEREMONIAL RITUAL FROM THE AMAZON RAINFOREST – IT IS NOT A MEDICINE OR ANY FORM OF MEDICAL TREATMENT. THE SERVICES OFFERED ON THIS WEBSITE DO NOT CONSTITUTE ANY FORM OF MEDICAL PRACTICE.
IAKP PRACTITIONERS DO NOT DIAGNOSE, TREAT CURE OR MITIGATE ANY DISEASE, OFFER HEALTH ADVICE, TREAT PHYSICAL OR MENTAL HEALTH ISSUES OR PRESCRIBE MEDICINES, NOR ARE THEY DOCTORS OR ANY OTHER FORM OF MEDICAL PRACTITIONER.
PARTICIPANTS ARE ADVISED TO SEEK MEDICAL ADVICE FROM THEIR PERSONAL PHYSICIAN PRIOR TO ENGAGING IN A KAMBO CEREMONY. FURTHER PARTICIPANTS MUST DO THEIR OWN RESEARCH AS TO THE POTENTIAL BENEFITS OF TAKING KAMBO, AS NONE ARE OFFERED OR IMPLIED HERE.